The Tastiest Taste of All!
---
Introducing Frances Bugby! Taa-daa!!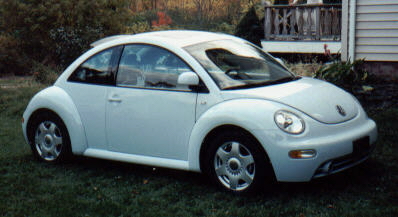 Yep, thar she blows! I, Sarah of the Hills, am an official VW owner. On October third, I bought a brand spankin' (slap my ass!) new 2000 Vapor Blue New Beetle. It's one of the ones that was supposed to only be sold over the internet (back in May) but ended up on dealer lots anyway. You know, the really pale blue. Shut up, it's not white.
So here's my theory. Within a 150 mile radius (give or take.. within the distance I was willing to drive), I found three Vapors. Each and every one was a 1.8l engine with a manual transmission with black leather interior, the sunroof, and alloy wheels. Now, there were 2000 Vapors made, of which 500 had the turbocharged engine. And yet three of the 500 were here, still hanging out at dealerships. Furthermore, I got a pretty good deal on the price. Why?
I assert that this is a boy's car (engine, transmission) in a girlyass color. What self respecting butchboy would be caught dead in a powder blue bug?
Eh, who cares? My gain.
So that's my car. She's pretty hot, eh? Admit it, you want her.
She wants you too.
---
Here is a picture of me.
And here are some more pictures of me, my dogs, my old truck, and whatever else.

---
Woohoo! Something new! Go check out my Male Masterpieces.
Feel free to look around, but don't miss the Shrine to Kip Winger.
He's back, baby, with eight lives to spare! Run, don't walk, to the grand re-opening of Bob's house.
I am proud to announce the new home of the definitive list of wrongness.
And here are some hot and sexy links for you to enjoy.
---
Okay, I think it's about time I give my boyfriend a little credit. He's really a great guy and I love him a lot. He's German though, so he's a little eccentric. It really turns me on when he dresses up like his favorite actor and pretends to be a hero, so here's a pretty recent picture of Stefan all dolled up. Mmmm that boy can give me mouth to mouth any day, baby.
---
Ahh, only
more days till they let me out!
My counter has special needs.
My friend Steph has special needs.
Here is a picture of her:

---
You like it? Let me know.. sarah@tmbg.org
You don't? You love Cher.